Join us for a jam-packed weekend event that will showcase world- renowned international speakers, cutting-edge research presentations, bonus opportunities for hands-on learning, networking with peers and exhibitors, and a fantastic awards gala.
A "once-in-a-career" opportunity you won't want to miss!
Early Bird Registration is open now – don't wait! Register today and join us April 28-30, 2022!
Further details available at: www.orthosymposium.ca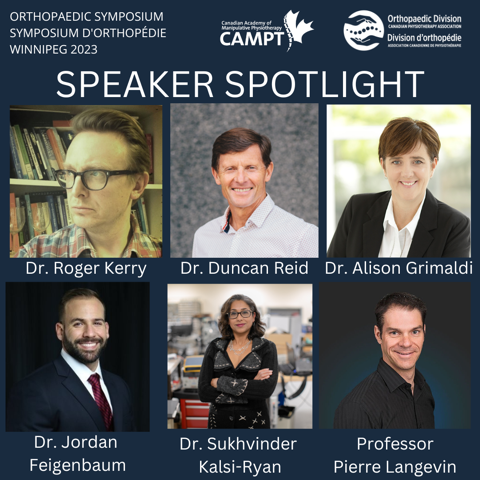 Le Symposium de la division Orthopédique 2023 arrive à Winnipeg, MB!
Joignez-vous à nous pour un weekend bien rempli d'activités; conférenciers internationaux de renom, présentations sur des recherches de pointe, occasions
d'apprentissage par la pratique, réseautage avec des pairs et les exposants, et formidable gala de remise des prix.
Une opportunité « unique dans une carrière » à ne pas manquer !
L'inscription anticipée est ouverte maintenant – n'attendez pas ! Inscrivez- vous aujourd'hui et rejoignez-nous du 28 au 30 avril 2023 !
Plus de détails disponibles sur : www.orthosymposium.ca